VCE REVISION WORKSHOPS
Throughout the year, subject teachers provide students with support and opportunities for revision prior to the examinations. Session times vary - they may be held during class time, at lunchtimes, after school as well as during term breaks.
A number of external providers provide VCE tips and advice, practice exams. They also run workshops and revision lectures during the year and also prior to the examinations. Attending these is not essential, but highly recommended as a worthwhile addition to their individual and school based revision programs. Generally students receive comprehensive revision notes, and specific examination hints and tips. The costs and locations of these workshops vary.
A list of links and information is provided below. Click on the logo. This is not a comprehensive list and the school does not endorse any particular organisation.
Other links and information will be provided as they become relevant
The School for Excellence runs a range of VCE programs including Master Classes and Headstart lectures for Units 1 /2 and 3 / 4. These are held in multiple classes across metropolitan Melbourne, close to public transport, with sessions on Saturdays and Sundays.
ACED offers Revision lectures - check back later in the year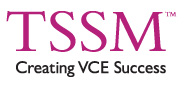 TSSM : runs a range of VCE programs including weekly tutorials,Easter Holiday Programs, midway revision sessions, UMAT Mastery sessions, End of Year Revision Sessions, Trial exam papers
Access Education offers sessions in Essential English, a Further Maths Day, Mid year lectures, end of year exam revision lectures, a newsletter that includes VCE tips and resources, special information about upcoming programs. Regional sessions are usually available.
NEAP : offers a Winter School, September and October Programs, Practice and past exams
Engage Education : a youth run, not for profit group. They have a Wiki that offers lots of tips and strategies , VCAA style practice exams, subject lectures for revision